Artist Bio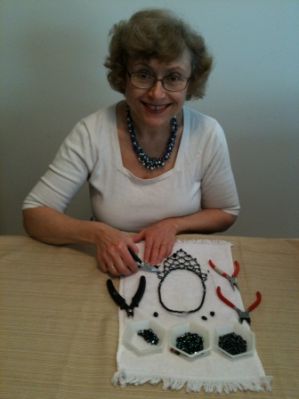 Helena Axelrod is an award winning New Jersey artist and teacher. Her preferred media are paper-based, incorporating monotype printing and collage, as well as bead-based to create wearable works of art.

She has taught jewelry making at the Adult School of Chatham and Madison and in public schools. She exhibits her paper work at a variety of public spaces with the Art League of the Chathams and the Drew Art League. Her jewelry is exhibited and sold at fine art and crafts shows, primarily together with the Jewelers Studio Guild. Helena has also produced commissioned paintings and jewelry. Each of her works is unique and is available only from the artist.
The jewelry she designs express her lifelong love of beaded works, especially those using glass beads. Glass beads are used to create rich patters of color and form. Some of her beaded jewelry design are sculptural: using wire and beads to create three-dimensional art works that appear to have a life of their own. Other beaded designs are two-dimensional and use knitting to create soft jewelry evoking the spirit of Native American clothing.

In the fused glass pieces, Helena explores how two dimensional surfaces can create the illusion of depth and mystery.

Helena uses print and collage techniques to explore color, space, texture and form on a two-dimensional surface. She was drawn to using printing techniques because, like music, they utilize theme and variation. Her monotype works are generally created in a series, so that each image is made in several styles, color schemes and a range of textures. The series approach allows her to explore the richness of each visual theme, by seeing the effect of many variations. However, each monotype painting is unique.

Helena has been creating art ever since she could hold a colored pencil, and has exhibited her work from the age of 5. Her formal art training was at the Brooklyn Museum, High School of Music and Art, and the Pratt Institute in New York City. More recently, she has studied with Jessica Lenard, an established painter and print maker, and Hollie Heller, a collage and mixed media artist, at the Center for Visual Arts in Summit, NJ. Helena's work has been exhibited at a number of venues in New Jersey, such as the Center for Visual Arts Member's Exhibitions, local libraries as well as corporate and public exhibition spaces. She has also been selected for a number of juried shows, including the Gaelen Art Show in Whippany, NJ and "Art at the Oval" at Livingston,NJ. Helena has won awards for her monotype work, most notably the Emereti Award at the Center for Visual Arts. The Emereti Award is presented by the emeritus directors of the art center to the best in the show. Her works have been acquired for private collections in several states.

I am grateful to Daniel Axelrod for constructing and helping to design this website. Many thanks to David Axelrod and Les Feigin for some of the photography.

The art pieces pictured are samples.
Each piece is made individually and no two are alike.
For details about the actual pieces available for purchase please
contact us
.
---